[ homepage | subscriptions | feedback | guestbook | contents ]
---

TRIAL BY FIRE
by Mark Robinson
---

The Political Education of Yukio Aoshima
It was a Cinderella story: a simple, honest man rockets to the very pinnacle of City Hall. What he found there was a hard school taught by maneuvering politicians, stubborn bureaucrats, and big business
Yukio Aoshima was having the ride of his life. It was a sparkling spring day in late April, and through the tinted windows of his chauffeured Nissan President, the diminutive, 63-year-old TV comedian-turned politician could see thousands of well-wishers gathered to greet him at the gates of Tokyo City Hall. Just two weeks earlier, Aoshima had swept the gubernatorial elections in a stunning upset victory that had left the major political parties reeling. But as his driver delivered him to the imposing granite twin-tower block in west Shinjuku, his excitement was tempered by the weight of his coming responsibilities. He knew that it was his reputation as a vociferous opponent of traditional "money politics" that had carried him to victory. He was well aware of his obligations toward Tokyo's 12 million citizens. But his first concern today was toward the 13,000 city employees over whom he would now take charge.

As he stepped from his car, it seemed as if all of his new employees were on hand. An elegant woman handed him a bouquet of flowers that almost dwarfed him. Cameras flashed and applause split the air. It was a scene that his personal aide, who had followed in the limousine behind, still describes as "the happiest memory of my life--just like Kennedy's inauguration."
Ahead of Aoshima lay a daunting task. As governor of Tokyo, he wielded more decision-making power than the nation's party-picked prime minister. He controlled an annual budget greater than that of either Canada or China--equivalent to the eighth largest budget of any country in the world. And the headaches were equally mammoth. Garbage from 12 million residents was accumulating at an astronomical rate, overflowing reclaimed dump sites in the bay. Problems with the city's financial institutions threatened disaster. Enormous construction projects launched during the economic bubble were lumbering in uncertainty; the ability to cope with earthquakes had been called into depressing doubt; violent crime was rising; and the 13,000-strong team of bureaucrats in administration was in serious need of restructuring.
Machiavelli would have cringed. By almost any conventional wisdom, Yukio Aoshima had no right to the Tokyo throne. He had been a television comedian and a squeaky clean politician, but never a statesman; a humble family-man, not a hungry opportunist. He had publicly admitted his ignorance of political infighting and his abhorrence of financial glad-handing. When he climbed the steps of City Hall after his stunning election victory, his administrative qualifications amounted to virtually zero. "I had no idea what was going on," he admits readily.
But as he basked in the accolades of the assembled bureaucrats, he did have a powerful ally: an image of integrity virtually unknown in Japanese politics. He was highly regarded, even by his opponents, for his common sense and wit. He also possessed remarkable self-confidence and an unblemished record of honesty and straight talk.
Now he was the new boy on his first day of school. His education was to be an intensive and intimidating series of challenges. The questions were simple ones: Would he be able to walk the halls of power and retain his unsullied reputation? Or would he fall victim to party politics and the political grind? For some, there was another nagging thought: When he chose to run, did he ever really believe he would triumph? Or was his campaign simply meant as a political statement? Aoshima insists it was the former.
It was dinner-as-usual one December evening last year in the Aoshima household, an apartment on the upper floor of a nondescript co-op block near the Nakano shopping arcade. Over the remnants of a meal of grilled fish, Aoshima, his wife, mother-in-law, son and daughter fell into their usual after-dinner discussion. "Ever since I was small, I remember my father talking with the family," says his son Toshiyuki, a freelance TV scriptwriter and his father's assistant. "He tells us his opinions and, as he talks, puts his ideas in order."
Without warning, Aoshima plunged the family into a debate. "I'm thinking of becoming Governor of Tokyo," he announced calmly. "What do you think?" This was not the bombshell that it may have been in any other family. In the past, Aoshima had discussed such ambitions as writing a prize-winning novel or making an internationally acclaimed film as casually as he might mention buying a pet. This time, however, he did not meet with immediate agreement. "My mother and sister supported him completely," says Toshiyuki. "But I had been his secretary in the Upper House, where he still had three years left of his term. I felt it was rude to leave before then."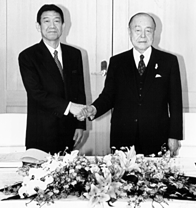 His father, however, was determined "to do something for democracy." With incumbent governor Suzuki's impending retirement, he had seen a chance to contribute to Tokyo on an openly democratic level--something that the imperious Suzuki had never done. It didn't take Aoshima long to convince his son. "Once he says he will do something, he will," says Toshiyuki. "Even if we disagree with him we end up on his side, because there's nothing we can do. So I agreed."
For the next three months, the Aoshima home was the nerve-center for a campaign that was almost laughably simple: no political donations would be solicited, no loudspeaker-equipped cars would invade quiet neighborhoods to blare promises or beg goodwill; there would be no campaign girls or banners, no rented headquarters. In fact, only the meager funds provided under the Public Office Election Law would be used; these would be spent to make posters that would be pasted across town by volunteers.
The only other publicity would be the bare-bones bulletins, newspaper coverage and television broadcasts that were also provided for under the election law. The campaign would be handled by only eight people--the Aoshima family, personal secretary Hiroaki Henmi and two other volunteers. Other aspiring governors would pour tens of millions of yen into their election efforts; "We didn't even spend Y100,000," says Aoshima's son. In a political system where money literally means votes, it is hardly surprising that virtually no one gave the man an outside chance. But inside the Aoshima camp, the believers knew better.
Yukio Aoshima was born on July 17, 1932, in Nihonbashi--the second son of a bento caterer. The first glimmer of the boy's sardonic talent appeared while he was at elementary school. According to an unusual entry for an official profile, he assumed leadership of a mischievous gang of boys, and parents in the neighborhood would regularly warn their children from playing with "that Yukio boy from the Aoshimas." But even as a child he harbored grand ambitions. He knew that someday he was going to be a writer.
His confidence grew with him. At 21, he boldly announced to his friends and family that he would one day not only be a famous author--and an award-winning one at that--but that he would run for a seat in the Diet.
In 1955, he graduated from the business faculty of prestigious Waseda University and entered graduate school. He was on the elite track until he was bedridden for an extended time with a lung infection. By the time his condition improved, he found that most of his university friends had already landed steady jobs at respectable companies. While convalescing at home, he began freelancing as a TV scriptwriter; it was only natural that he increasingly began to focus on the new medium.

Back on his feet in 1959, he joined with Hajime Hana of the legendary cabaret group Crazy Cats to begin a Sunday variety program, Shabondama Holiday. The program turned out to be a huge hit. Aoshima, who appeared on the show as himself, became a household name when he coined the nonsensical outburst, "Aoshima da!" ("I am Aoshima!")--whenever he found himself in a fix, or one of his jokes fell flat.
He also turned increasingly toward crafting incisive, anti-establishment parodies; turning out hit songs such as "I Know It's Wrong But I Just Can't Stop It" and "I Am the Most Irresponsible Man in the World." He dubbed the new industrial era, Musekinin Jidai, or "Irresponsible Age."
Aoshima's inclination to make ambitious boasts stayed with him. In 1966, the comedian/scriptwriter announced to his family that he was making a film which would win an international award. The film, Kane, which he wrote, directed and starred in, centered around a group of disillusioned youths who find common purpose through their efforts to raise a temple bell from the sea. It was an unusual film, shot in black and white with no dialogue. And just as he promised, Kane won the Special Critic's Prize at Cannes the following year. One indication of Aoshima's cockiness can be seen in a remark he made to a fellow film-maker at the time: "[Akira] Kurosawa," he said of the renowned auteur, "is a potato."
In 1967, Aoshima began starring in the weekly television phenomenon, Ijiwaru Baasan, based on a cartoon of the same name. Dressed in an old lady's kimono and a gray wig, he played the notorious busy-body grandmother of the title, terrorizing neighborhoods with her pranks and sticking a wrinkled nose into everyone's business.
With his successes piling up and his confidence at a peak, he set out the same year to fulfill his promise to run for office. He orchestrated his own campaign for the Upper House, traversing the country in a clunky VW Beetle, stopping to climb on the roof and announce his pledge to "Rebuild the Upper House as a Municipality of Good Sense." It was the first and last time that he would stump for an election, and he scored the second highest proportion of votes in the country.
"He never again spent money on a campaign," says personal secretary Henmi, a plump, well-dressed and high-spirited man who has been at Aoshima's side for the past 25 years. "That's his style." As his political career lengthened and the economy boomed, Aoshima became increasingly critical of the contempt in which the nation's politicians held their constituents. His barbed tongue, which worked wonders for his TV character, was not, however, appreciated by the conservative establishment.
In 1971, he was formally disciplined by the House for calling Prime Minister Eisaku Sato "a male concubine to the financial world." Many years later, in 1984, he was sanctioned again for insulting Prime Minister Nakasone's entire cabinet; announcing that they were "idiots who can do nothing but answer [Nakasone's] beck and call." Aoshima was also one of the loudest protesters against the LDP government's squelching of the Recruit "money for favors" scandal in 1988 and the following year, he resigned in protest over the railroading of the consumption tax bill.
In October 1992, after recovering from six months in hospital for treatment of a malignant lymphoma, the re-elected Aoshima launched a hunger strike demanding the resignation of former LDP kingmaker Shin Kanemaru, who had been convicted of accepting a Y500 million bribe and fined a mere Y200,000. The hunger strike lasted just 30 hours and was stopped by his physician, who hospitalized him for dehydration. Nevertheless, public anger was running so high on the Kanemaru issue that Aoshima's campaign attracted some 400,000 postcards of support, and Kanemaru was forced to resign the same month.
By the time of his decision to run in the gubernatorial election, Aoshima had fulfilled every goal he had set for himself: he had been a sucessful comedian and TV star, an award-winning film maker and a respected politician. He had even succeeded in keeping the promise he made as a precocious 21-year-old by winning the 1981 Naoki Sho, one of Japan's most prestigious literary prizes, for his novelistic debut, Ningen Banji Saio ga Hinoeuma ("You Just Never Know What's Going to Happen").
So why should Yukio Aoshima ever have doubted that he would be the next governor of Tokyo? Nothing seemed out of his reach.
"Good evening," began his campaign speech on NHK television on the night of March 15. "I am Yukio Aoshima and I am running for the Tokyo governorship. The reason is simple: I wish to put an end to the past 16 years of fakery and irresponsibility. I wish to reform Tokyo politics, and give the running of the city back to the people." The speech hardly caused a stir at the time. He was, after all, a dark horse. Yet if his blatant attack on the 16-year reign of outgoing governor Shunichi Suzuki went barely noticed, it would not be forgotten.
Aoshima's campaign platform consisted of only three planks: to make Tokyo politics more transparent; to halt the massive World Expo development on Tokyo Bay; and to refuse the use of taxpayers' money in the rescue of two scandal-tainted credit unions. Those pledges were surely on his mind on the evening of April 9th, as the Aoshimas and Henmi gathered in the Nakano living room to watch the election results. Earlier that day, dressed casually in a sports jacket, open-necked white shirt and cravat, Aoshima had gone with his wife Michiyo and daughter Miyuki to the Nakano ward office to cast his ballot. Now, as the election results trickled in, the hopes of the small group seated around the television rose. It didn't hurt Aoshima's chances that the major parties had been in so much disarray over choosing who to support (or indeed, what they stood for) that four of them had thrown their backing behind a single candidate, a former national LDP bureaucrat. Given this poverty of choice and the general slump in public morale in the wake of the Hanshin earthquake, the subway gassing, the shooting of the national police chief and the slithering return of the LDP, the Aoshima camp, with its positive campaign message, had reason to be confident.
The victory was a landslide. With close to 1.7 million votes, Aoshima won the post of governor over his nearest rival by almost half-a-million. The family celebrated with a toast of fruit juice. "We were ecstatic," says Toshiyuki. "But we didn't want to get drunk." As journalists swarmed to the apartment block, Toshiyuki and Henmi directed them to a common-room on the fifth floor of the building, a space normally used for neighborhood activities such as choirs and flower arrangement groups. Some 300 reporters jostled for space, hanging on Aoshima's every word. After half-a-lifetime's career spent in opposition, Yukio Aoshima had embarked on a crash-course in power. His education had begun in earnest.
The first lesson brought home the bitter realization of his own naiveté. In a newspaper interview just two days after his election, he was asked about the garbage crisis and the previous administration's plans to create a new reclamation project off the coast of Chiba. "Tokyo Bay still has rich fishing resources," he responded. It was wrong to dump more garbage into the sea. He believed that existing facilities on Yumenoshima could be expanded by building retaining walls and piling the trash higher.
It was an impractical solution, at the expense of some basic facts. The governor-elect was unaware that Tokyo was inches away from concluding lengthy negotiations with the Chiba government. Now the Chiba authorities were incensed to learn that the efforts they had made to accommodate the needs of neighboring Tokyo were apparently being spurned. As a result, talks were paralyzed for months as embarrassed Tokyo officials struggled to placate their Chiba counterparts. "We had to apologize to the Chiba government," vice governor Masaaki Ueno told Tokyo Journal some two months after the incident. "It was a very careless statement."
It was not the last time that the governor's off-the-cuff remarks would land him in trouble. But Aoshima barely had time to absorb that lesson before plunging into his next challenge; that of fulfilling his promise to cancel the World City Expo, the hugely expensive extravaganza initiated by his predecessor Shunichi Suzuki.

Conceived at the birth of the bubble economy and scheduled to run from March to October 1996, the expo was intended as a showcase event to kick-start a Y4 trillion redevelopment project on the shores of Tokyo Bay. But it clearly had another purpose: the expo would be the crowning glory of Suzuki's reign, a dazzling swan-song that would immortalize the aged governor. To be staged on 448 hectares of reclaimed land at a cost of Y200 billion (of which Tokyo taxes would pay Y83 billion), Suzuki hoped that the event would put Tokyo on the map like nothing before.
When Aoshima first took office, few involved with the project thought it possible that he could make good on his pledge to cancel it. The scale of preparations was staggering. "We had the UN involved, the construction costs for the pavilions sorted out and 50 city governments worldwide ready to take part," says Shunryu Takahashi, a youthful, straight-talking career bureaucrat who, for the past eight years had been in charge of the expo. "Tokyo, New York, Paris, Beijing, Moscow . . . 10 major cities. Domestic participants, prefectures and cities, 172 governments worldwide, 1077 civilian groups. We were 90 percent prepared." "The expo," Suzuki had crowed, "cannot be stopped."
The old man was wrong. Five weeks later, with a single blunt statement, Aoshima squashed Suzuki's grand dream. "It is as if he has spread sarin," the livid ex-governor spluttered to reporters. Other supporters of the project howled in outrage.
The agony with which Aoshima struggled over the cancellation was covered in detail by the media. There were reports of how he had become an insomniac, veering wildly between thoughts of canceling or staging the event. Of how he had lost two kilograms from his already featherweight, 55kg frame. Of how, according to some reports, his stress had even given his dog an ulcer. But the ordeal ended well; newspaper polls before and after his announcement showed that Aoshima's popularity among Tokyoites remained around an impressive 75 percent, and when he showed up at the Ryogoku Sumo Stadium to present an award to the tournament winner, he received more applause than the wrestler. In the end, the final cost of canceling the expo--originally predicted by his opponents to exceed that of staging it--came to only half the predicted figure.
If, through this struggle, Aoshima learned the mind-boggling enormity of the decisions to be made, he had also taught his fellow politicians a thing or two about keeping one's word and the power of popular support. And ex-governor Suzuki disappeared from the political horizon, having learned just how difficult it was to buy a monument to oneself.
Other incidents during the run-up to the expo cancellation taught Aoshima that he was no longer free to make the scathing attacks that he had reveled in before. His opponents in the 128-member metropolitan assembly took every opportunity to cut him down, and sessions in the assembly often seemed like a bullying scene in a schoolyard.
Kozo Tanaka, the LDP's assembly leader, grilled Aoshima for an hour on his industrial, economic and civic policies. "He didn't seem to have any," recalls Tanaka with a smirk. "I asked him to explain his complaints about Suzuki's administration but he had no examples and had to apologize." Tanaka relishes the memory. "It was like hari no mushiro--like he was sitting on a mountain of needles," he says.
In the same session, a shrewd questioner trapped Aoshima into committing another gaffe. Asked his opinion of the status of Japan's Self Defense Forces, the governor answered candidly that he felt they were unconstitutional and would one day have to be disbanded. It was the perfect cue for his opponents, who quickly demanded of the governor how he would handle a major earthquake. Aoshima was forced to concede that he would expect the military to assist, adding that he did not see the two points of view as being "that contradictory." It was a reasonable response for a civilian, but somehow dissatisfying from the head of government. (Some six weeks later, he would announce that his remark was both a "personal view" and "regrettable," and that he would seek to make amends with the Defense Agency director.)
He was embarrassed again when he confessed ignorance about a municipal unemployment program and the huge--and costly--international convention center that his government was building in Marunouchi. Clearly, the governor had not done his homework, said his opponents, and as the session dragged onward, he began to look increasingly alone. "I feel as if I am surrounded by enemies on all sides," he lamented in an interview at the time. Aoshima seemed even more alienated following reports in the media that his senior bureaucrats felt he didn't trust them. But as the governor well knew, he had always been on his own.
Two days after his April 24 inauguration, when Aoshima formally notified the speaker and vice speaker of the assembly of his intention to cancel the expo, he had phrased it in brusque terms: "The real issue is not whether we will lose or gain money, but whether Aoshima is a man who can keep his word. It is a question of faith." But whose faith? While his critics charged that it was selfish of him to cling to his election promise when so much was at stake, it was not hard to see that Aoshima's struggle was as much a battle with himself as it was a political dilemma.
Ever since he was first elected to the Upper House in 1967, Yukio Aoshima--defender of common sense, little man against the big machine--had been the lone wolf, railing at the system. But while his impressive achievements in the past had owed much to his ferocious drive--learning from scratch how to write scripts, novels, make films and win elections--he was not so foolhardy as to try teaching himself the ropes of the governorship. For perhaps the first time in his life, the loner had gone looking for help.
Three days after his election to governor, Aoshima traveled across town to meet with Ryosuke Yasue, the pragmatic, forceful president of the large publishing house Iwanami Shoten. He barely knew Yasue, but an acquaintance had suggested he make use of the magnate's expertise. As the former personal secretary to the late Tokyo governor (and predecessor to Suzuki) Ryokichi Minobe, Yasue was possibly one of the best people to whom Aoshima could turn. Minobe, after all, had been elected in 1967 on a similar wave of public dissatisfaction with the mainstream parties. Like Aoshima, he had boasted a strong grass-roots appeal; Aoshima had, in fact, worked on his campaign at the time.
In a small guest suite at the Akasaka Tokyu Hotel, Aoshima, his son, Henmi and Yasue chatted intensely for several hours. Yasue did most of the talking. "He was very generous," Aoshima told Tokyo Journal. "He taught me what he had learned."
"I told him not to hurry," says Yasue. "He had said he wanted to open things up to the people, so I told him as long as he showed that he was suffering; as long as he showed whatever was confusing him, people would think he did his best." It is impossible to say to what extent Aoshima's behavior was determined by this advice, but it is true that by prolonging his decision on the fate of the expo, he gained respect and won support.
In the aftermath of the expo cancellation, a change appeared to come over the governor. For a while, his name no longer appeared in the newspapers, tied to embarrassing remarks. "I don't have anything to confront any more," he told Tokyo Journal in August. "The issue was settled. It's not that I toned anything down, I just became quieter."
If the strategy that Aoshima had learned from the book publisher had gained sympathy for his apparent vulnerability, he had more challenges ahead of him if he was to continue on his path. By ignoring the wishes of almost all of his staff and the entire metropolitan assembly when he canceled the expo, he had, in a sense, betrayed them. He owed them, and an opportunity to pay them back was not long in coming. The only stumbling block was another campaign pledge: he had promised to make Tokyo politics more open.
In mid-July a minor scandal threatened to erupt when rumors began surfacing that city officials had been spending millions of yen on entertaining national bureaucrats. Soon after, a citizens' group demanded that records be made open under the freedom of information ordinance. None of the alleged banquets had taken place during Aoshima's incumbency, but the new governor refused. "My idea of an open administration," he said, "is an environment where I can talk freely with Tokyo citizens. It is not about disclosing that kind of information."
On July 21, an ombudsman group filed suit against the governor, and on September 25, when the case came before the court, Aoshima was lambasted by the group's lawyer, Toshiaki Takahashi. "The spirit behind the disclosure of information is to get the facts in the open, then discuss the issues involved," said Takahashi. "Mr. Aoshima doesn't understand that." But Aoshima remained firm, fueling speculation that he was protecting high-ranking bureaucrats at City Hall. A neat compromise was worked out during the September assembly session indicating that the government would change its stance, eventually disclosing when such banquets are held, how much they cost and the number of guests. If the gesture appeases Aoshima's angry opponents, it will be a testament to his political skills. "I learned about listening to others' opinions and absorbing them," he says. "Making decisions by myself doesn't work anymore."
If anything could be said to best symbolize Aoshima's political coming of age, it is his present dilemma over his third and most difficult campaign pledge: not to use taxpayers' funds to bail out the failed credit unions. The controversy over the collapse of Tokyo Kyowa, Anzen and Cosmo has plunged him into a labyrinth of bureaucratic doublespeak. After initially refusing to provide the scandal-ridden Kyowa and Anzen institutions with the Y30 billion bailout requested by Finance Minister Takemura, Aoshima was slammed by a new development.
The July failure of Cosmo, the largest credit union under the city's supervision, at first led the governor to approve rescue funds because he believed the company had been "run by sure hands." It later emerged that the Cosmo management had also been lax, prompting Aoshima, on the advice of his senior bureaucrats, to state that since he could not have predicted the downfall of the third institution when he made his election pledge, assisting the bailout would not constitute a breech of promise. Now the governor has announced that he will extend assistance to the first two institutions as well. As the controversy continues at press time, the issue is sinking further into petty squabbling in the assembly.
The problem itself is far from trivial. Though Aoshima may not have realized it at the time, the expo cancellation may have been the most clear-cut decision of his career. No one wants a run on the banks, and there are plenty of signs that the nation's bad-debt situation is drastic; its international implications are frightening. Given the recent collapse of other credit unions in Kansai, Aoshima appears to have had little choice. His next moves will likely be dictated by necessity rather than his own beliefs, and the way he justifies his actions will be the gauge of his skills.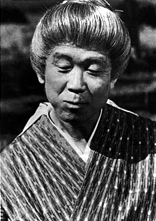 The education of Aoshima continues as he settles into his four-year term. From the heady days of his fantasy-like ascension to the throne of the Tokyo Metropolitan Government, Yukio Aoshima has come down to earth. He accepts his dependence on his bureaucrats and works together with them. He reads the speeches they prepare for him. His manner is more subdued. He even sounds more like a politician; although when Aoshima drops a cliché such as, "Honesty is the best policy," he is still, somehow, believable. "That's all I've got," he says. "I am not that highly esteemed for my administrative ability, so being honest is the best way for me to get trust. Without trust, you can't administer."
While some may regret that the governor has been forced to compromise, this is perhaps an inevitable outcome--and one for which Tokyo citizens might even be grateful. If a lone wolf in opposition is a virile sign of democracy, the same creature in power is anything but. Despite Aoshima's difficult education, there is no question that he has put his stamp on the government. Even his strongest detractors confess their admiration for one effect of his administration. "Tokyo politics have never been so interesting," says Mamoru Okita, a Komei politician in the assembly. "Aoshima has opened them right up to debate."
callouts:
Aoshima controls an annual budget greater than that of either Canada or China--equivalent to the eighth largest budget of any country in the world. And the headaches are equally mammoth.
Other aspiring governors would pour tens of millions of yen into their election efforts; "We didn't even spend Y100,000," says Aoshima's son.
By the time of his decision to run in the gubernatorial election, Aoshima had fulfilled every goal he had set for himself: he had been a sucessful comedian and TV star, an award-winning film maker and a respected politician.
---

[ homepage | subscriptions | feedback | guestbook | contents ]
---
Copyright © Tokyo Journal