renland
Archive
Mostly sword and sword-related; iaido, mugairyu. And a fair smattering of good food, good times, and the droll details of life only my mother cares about. Oh yeah, and my daughter Chikage "Tonchan" too!

---
---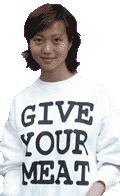 Saturday, May 29, 2004
5/29/2004 09:31:00 PM
marriage
It's all about weddings these days. We got to Hara Museum of Contemporary Art about 5:30 and checked out the exhibitions before the wedding reception started. Cool building, head-scratching art. Two very cool photos in their own room on the second floor made up the whole of one series in Noguchi Rika's "I Dreamt of Flying".



We can now say we've done this museum. Alas, it hardly warrants another visit.
-----

Comments: